P.O.W. * M.I.A REMEMBRANCE SITE
|
home

M.I.A SONG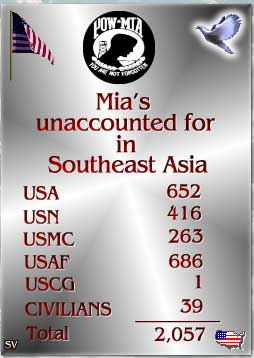 M.I.A Song
words and music
Charlie Daniel's
While we're sitting home in our places stuffing goodies in our faces
bitching 'bout the television news and the price of gasoline
there's a man who was your neighbor,
somewhere in Southeast Asia living in a bamboo cage
and wondering what happened to the U.S.A
He's a citizen of the free world
He's an American Mothers son
He's a living contradiction,, he's a shame to everyone
He ain't no constitution, his bill of rights are gone.
The war's been over for ten years now and he still ain't made it home
if right is right and fair is fair how can we leave them there
Mister Politician, why can't you stop and listen
to disenchanted voices blowing in on freedoms wind
you put the mighty Nation in a no win situation
you sold out to the devil and the prize
was our young men.
If it's trouble that we're fearing in the first one volunteering
and I don't think nobody here would hesitate to go to war
but in the cause of freedom, they're gonna be
there when we need them
and if we can't bring them back then let's don't send no more
if right is right and fair is fair
HOW CAN WE LEAVE THEM THERE...?

Please Remember Them.